Cambodia Travel Overview
Torn by a decade of civil war, Cambodia has only recently experienced peace and is beginning to establish itself as an attractive tourist destination. As one of the poorest countries in the world, the country has relied heavily on tourism for its economic growth. The government of Cambodia has given priority to developing the country's cultural and eco-tourism industries to facilitate economic development and help reduce the widespread poverty.
The main tourist attraction of Cambodia is the ancient archeological ruins of Angkor, a UNESCO World He
ritage Site. However, the natural beauty of this country extends beyond Angkor and includes virgin forests, waterfalls, and remote hill-tribe villages in the northeastern provinces, making this a promising adventure and ecotourism destination. The southern region's coastline is regaining popularity for its white sand beaches in Sihanoukville and surrounding areas. The eccentric capital city of Phnom Penh is re-establishing itself as the business and social hub of the country.
Cambodia is raw, alive, harsh, beautiful and challenging, never taking you too far from a feeling that you're almost a part of history in the making, not merely an observer.
Time Zone:
Cambodia operates on Greenwich meantime +7.
Country Code:
Cambodia country code +855
Mobile Phone:
You can purchase a local SIM card and/or hand set at many mobile phone shops. 'Top up' credit vouchers are available at most phone shops, particularly ones displaying the network logo. You can place international phone calls and send faxes at most hotels, although hotels often charge extra fees.
Internet:
Wireless (wi-fi) Internet access is widely available in city and you can access free wifi in many hotels, restaurants, cafes and bars.
Electricity: Electricity in most of Cambodia is 220V, 50Hz. Electric power sockets generally fit two round pins. Three-pin plug adaptors are usually provided by hotels; just ask the reception. In all countries, protect sensitive electronic equipment like laptops from power fluctuations by using a surge-protector.
Dining and Drinking:
Khmer cuisine is closely related to her neighboring countries, Vietnam, Laos and Thailand, although it is not as spicy. Curries, stir tried vegetable, rice, noodles and soups are staples of Khmer diet. Coconut milk is the main ingredient of many Khmer curries. One of popular dishes is amok, a soup of boneless fish with coconut and spices.
Cambodia
is still developing, and so local sellers can sometimes be very persistent when trying to make money, especially aroun
d tourists whom they perceive as very wealthy. Vendors will probably overcharge you, but rather than becoming irritated, join the game and bargain with a smile! It is also recommended to check prices of the same items in the neighborhood before reaching a deal, especially for more expensive items.
If you being followed by street vendors and do not wish to make a purchase, often the best course of action is to say "no" firmly and politely, and continue on your way. Do not hesitate or linger, as this will encourage the seller to try and engage you further.
If you choose to ship items home, we highly recommend that you buy shipping insurance and check the policy details. As shops are not responsible for damages incurred en route, it's better to be safe than sorry.
Cultural Norm:
Cambodians consider it disrespectful to touch someone on their head. It's also impolite to gesture with your feet or prop them up on furniture; to do so implies that you look down on the people sitting around you.
Revealing clothing is unacceptable off the beach. Shorts are generally fine—as long as they aren't too short.
When visiting pagodas and temples, shorts and tank-tops are unacceptable. Your knees and shoulders must be covered. Footwear and socks must be removed in pagodas. Shoes are usually removed upon entering private homes too.
Public displays of affection between men and women may embarrass your host. On the other hand, it's perfectly normal for a pair of men or a pair of women to link arms or hold hands.
When greeting people in Cambodia, it's customary to use the sampeah gesture: bring your palms together at chest level and bow slightly in the direction of your acquaintance
Beckoning someone by crooking your finger is considered rude. The correct way to call someone over is to extend your hand with the palm down and flap your fingers towards your wrist. To ask for the bill in a restaurant or shop, extend one hand in front of you with the palm raised and pretend to write on your palm with the other hand.
Safety:
Avoid solo travel during the day outside provincial towns, and in all parts of the country at night. Street crime remains a problem in the capital - take particular care at night, and travel by taxi or tuk tuk, rather than motorbike or cyclo.
Violent attacks are rare, although theft is a problem. When possible, secure your valuables in the hotel safe. Remember to record your traveler's cheque numbers and credit card information.
Do not leave your wallet or mobile phone in the back pocket of your pants or anywhere else that's easily reached (like an outer zip-up compartment on a backpack). Be especially vigilant in markets and other crowded places like ports and train stations.
Pick-pocketing and purse-snatching are more of a problem in popular tourist areas in Phnom Penh and Siem Reap.
Follow your guide's advice when sightseeing around the Temples of Angkor. We do not recommend climbing to the top levels of the temples as the way up and down can be steep and unsteady.
Checking list:
What you take will naturally depend upon where you are traveling, and it can often be difficult to decide what to pack, nevertheless the following should act as a useful checklist of essential items worth thinking about taking.
Passport – Ensure that it is valid and in good condition with empty pages available. Make a photocopy as well
Insurance – Ensure that it will be valid for the whole journey
Passport Photos – Will invariably be needed for identification passes and certain overseas visas
Emergency contact numbers: Insurance company, friends and family.
Debit/credit card cancellation numbers
Air tickets and Itinerary
Money belt – Ensure that it is discrete and comfortable to wear
First Aid kit - Basic travel kit to cover basic mishaps which may occur along the way
Personal Medication –with international doctors' note to ensure easy passage of medication across international borders
Sun block – High UVA protection ideally
Sunglasses & sunhat
Comfortable walking shoes
Mosquito spray & insect repellent
Long sleeve top and trousers – Useful to protect against mosquitoes at dawn and dusk and the sun through the day
Camera & battery
Security code pad lock
A small amount of currency in USD small notes
Clothing:

Since the weather is consistently warm throughout the country, it is advisable to bring comfortable lightweight, loose fitting, cotton clothing and long-sleeved items for protection from mosquitoes and the sun. During the rainy season an umbrella and open-toe sandals are recommended. A jacket may be needed in hotels and restaurants using excessive air-conditioning. A hat and high-factor sun block is advisable for protection against the hot sun when sightseeing.
T-shirts and knee length shorts are acceptable for visiting temples or pagodas, including those of Angkor Wat. Shoes are generally removed at the entrance to pagodas. For visits to the Silver Pagoda, which is within the Royal Palace grounds, visitors are advised to wear long trousers or long skirts.
At the Angkor Wat complex, you'll be on your feet and walking a lot, sometimes over rough and slippery surfaces, so choose your footwear carefully. The soles of your shoes should offer good traction.
Cambodia Destination Highlight
PHNOM PENH
Before civil war broke out, Phnom Penh was nicknamed 'The Pearl of Asia' as it was considered one of the finest cities in the region. Located in thesouth-central region of Cambodia, at the junction of the Mekong, Bassac and Tonle Sap rivers, Phnom Penh has been Cambodia's capital for most of the last six centuries. Having recovered from the dark legacy of the Pol Pot era in the 1970's,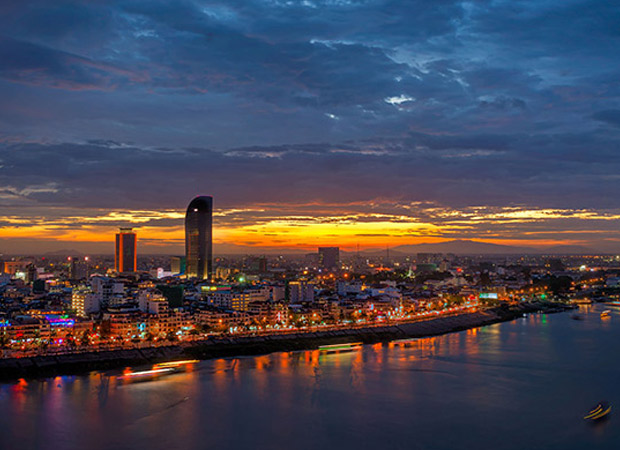 Phnom Penh today is a vibrant economic center with a population of two million. Cafes, restaurants and hotels line the riverfront while boutique shops and art galleries sprout along smaller side streets. Even as it undergoes urban development, Phnom Penh has retained much of its old world charm as evident in the French colonial architecture and traditional ornate temples. Rich in history, the city offers a number of cultural and historical sites including the National Museum, Royal Palace, and Silver Pagoda.
To truly understand the country's recent history and the people's mindset, a visit to the Tuol Sleng Prison is a must. Also known as S-21, this former school became a torture center and has now been preserved as a museum. On the outskirts of Phnom Penh are the Killing Fields, an area where some 17,000 men, women and children were murdered and dumped in mass graves. Not for the faint-of-heart, these sites are sobering reminders of the Khmer Rouge's brutality—and of the rest of the world's failure to intervene.
Siem Reap, located north-west Cambodia, is a charming provincial town defined by a cluster of villages, Chinese-style shop houses, and French-colonial architecture. As a gateway to the ancient temple ruins of Angkor, Siem Reap has experienced exponential growth in recent years with hotel and resort developments turning this once sleepy village into a tourism mecca. Activities to experience in the town of Siem Reap include watching a traditional Cambodian "apsara" dance performance and participating in a Khmer cuisine cooking class. The rural outskirts offer plenty of interesting activities such as visiting craft shops and silk farms, taking a bike ride through the scenic countryside, or participating in a humanitarian assistance program by making a pump well donation or helping children at an orphanage.
Getting here: Most visitors arrive in Siem Reap by air. There are direct flights from most major capital cities in Southeast Asia. It is a 40 minutes flight or a 6 hour journey by road from Phnom Penh. View tours in Phnom Penh Capital City
TEMPLES OF ANGKOR
Designated a World Heritage Site by UNESCO in 1992, the Angkor Archaeological Park encompasses dozens of temple ruins whose artistic and archaeological significance and visual impact place it alongside other wonders of the world like the Pyramids, Machu Pichu and the Taj Mahal. Built between seven and eleven centuries ago the temples—about 100 of which are still standing—were devoted to Buddha and Hindu deities. Within the fortified city of Angkor Thom lies the Bayon temple, the third tier of which is lined by more than 200 huge, carved faces that stare down from 54 towers. Other highlights include the Buddhist temple of Ta Prohm, which was not been restored and looks just as it did when French explorers stumbled upon it in the 1860s, and Angkor Wat, a vast temple complex dedicated to Vishnu in the early 12th century. Many of the temples are covered with fantastic carvings depicting religious stories and scenes from daily life.
When you visit the temples, you will be issued an "Angkor Pass" which is similar to an entrance ticket but has your photo on it. The pass allows you access all the temples in the complex. Make sure you keep the pass just in case you would like to explore the temples in your leisure time, as long as the date is still valid.
Sitting on the Sangker River just south west of the Tonle Sap Lake, Battambang town is at the heart of Cambodia's 'rice bowl'. Although being the country's second biggest town, Battambang still has a very local provincial atmosphere. Much of the architecture is traditional Cambodian and French colonial, evident in the town's many French-style villas and storefronts. The nearby countryside also harbors old pagodas, Angkorian-era ruins, caves, waterfalls, and Khmer Rouge period killing fields.
Getting here: There is a daily ferry that departs Siem Reap at 7:30am. It's a picturesque, 6-8 hour journey across the Tonle Sap and up the Sangker River in the wet season, but can be considerably longer in the dry season due to low water levels. Overland from Siem Reap via Sisophon takes 3-4 hours. Overland from Phnom Penh to Battambang is 291km (4 hours) on a paved road in good condition.
Located on the southwest peninsula facing the Gulf of Thailand, Sihanoukville was originally founded as a port town half a century ago. Today this provincial town is Cambodia's premier beach destination with miles of powdered white sand beaches, picturesque islands and warm tropical waters which can be visited year round. The nearby islands teeming with coral and colorful range of tropical fish offer excellent opportunities for snorkeling and diving. If you are a seafood lover, you will especially enjoy the local specialties of fresh caught crab and shrimp.
Getting here: Sihanoukville is 230 kilometers or about a 3 ½ hour drive from Phnom Penh. It is accessible via one of the best inter-provincial roads in the country. View tours in Siem Reap, Angkor
SIHANOUKVILLE
Located on the southwest peninsula facing the Gulf of Thailand, Sihanoukville was originally founded as a port town half a century ago. Today this provincial city is Cambodia's premier beach destination with miles of powdered white sand beaches, picturesque islands and warm tropical waters which can be visited year round. The nearby islands of Koh Rong, Koh Rong Sanlem teeming with coral and colorful range of tropical fish offer excellent opportunities for snorkeling and diving. If you are a seafood lover, you will especially enjoy the local specialties of fresh caught crab and shrimp. View tours in Sihanoukville
Kep
In contrast to the popular and bustling beachfronts in Sihanoukville, Kep is a small and low-key beach town. From the early 20th century through the 1960s, Kep was Cambodia's premier beach town, drawing weekend holiday-makers to its picturesque shores lined with ritzy ocean side villas of the privileged class. Nowadays, the old villas are in ruins, and the town is known more for its oceanfront seafood stalls than for its beaches, which are narrow and stony, offering just a few slivers of sand. Nearby attractions include Bokor Hill Station, a mountaintop collection of colonial buildings (hotel, casino, church, and royal residence) constructed by French authorities in the early 1920s as a retreat for French officials and foreign visitors to old Indochina. View related tour
BATTAMBANG
Sitting on the Sangker River just south west of the Tonle Sap Lake, Battambang town is at the heart of Cambodia's 'rice bowl'. Although being the country's second biggest town, Battambang still has a very local provincial atmosphere. Much of the architecture is traditional Cambodian and French colonial, evident in the town's many French-style villas and storefronts. The nearby countryside also harbors old pagodas, Angkorian-era ruins, caves, waterfalls, and Khmer Rouge period killing fields. View tours in Battambang
NORTH-EAST PROVINCES
Home to diverse landscapes and cultural heritages, the north-east region of Cambodia is the most unexplored region and forgotten by travelers because of its remoteness and underdevelopment. Thanks to improved connection and infrastructure, nowday this region is fast becoming a popular destination. There are plenty of those in the lowland provinces, but in the northeast they yield to the mountains of Mondulkiri and Ratanakiri Provinces, where ecotourism is playing a major role in the effort to preserve its natural beauty.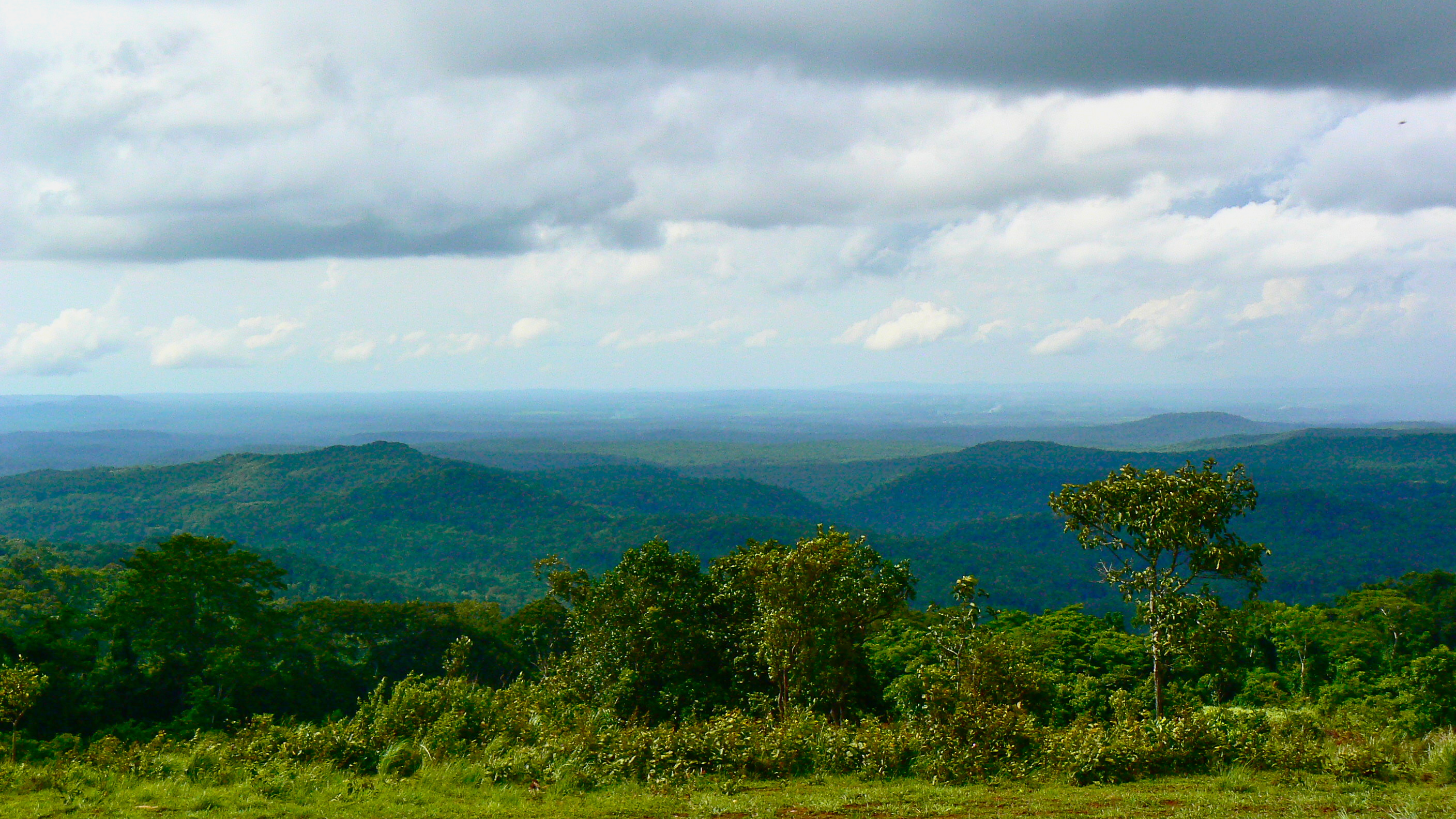 Mondolkiri is the largest province of Cambodia but is the most sparsely populated. Located on the eastern highlands, Mondolkiri has scenery and a climate quite unlike anywhere else in the country. There are rolling grassy hills, serene rivers, powerful waterfalls, and forested mountains. At an average elevation of 800m, it can get quite chilly at night. Mondulkiri has numerous tourist attractions such as waterfalls, indigenous hilltribe culture, national parks and elephant trekking. Sen Monorom, the provincial capital, is a quiet town with a frontier feel, although it has potential to develop into an eco-tourism center.
Banlung City is the provincial capital of Ratanakiri Province in the mountainous northeastern corner. It is one of the poorest regions in the country with a sparse population of 150,000. Ratanakiri is known for its lush forests and rich biodiversity, though recent development is threatening the province's ecological health. Some of the most biologically diverse lowland tropical rainforest and mountain forest ecosystems of mainland Southeast Asia are located in Ratanakiri. Activities include excursions/treks to remote Khmer Loeu villages and jungle areas, waterfalls, gem mines, and Ratanakiri's famous Yeak Laom volcanic lake.
Kratie is a sleepy riverside port and it a base for visiting the Mekong dolphins. Just opposite the town on the other side of the river is Koh Trong Island. Koh Trong is a beautiful quiet island locates in the middle of the Mekong River. No cars, but carts, smiling peasants, craggy fishermen and a rich soil that man turned into an orchard, Koh Trong is a small paradise. It is a short ferry ride between town life and a slice of Cambodia's rural ways.Surrounded by white sandy beaches, constantly refreshed by the river's breeze, the island of Koh Trong is some sort of an ideal Cambodia countryside.
Cambodia Climate & Weather
The climate can generally be described as tropical. As the country is affected by monsoon, it is hot and humid with an average temperature around 27.C (80.F). There are two distinct seasons: the Rainy Season and the Dry Season. However, the Dry Season is divided into two sub-seasons, cool and hot. These seasons are:
The Rainy season:
From June till October 27-35.C (80-95.f)
The Dry season (cool):
From November till February 17-27.C (80-95.F)
The Dry season (Hot) :
From March till May 29-38.C (84-100.F)
Cambodia Money Matter
Cambodia
's currency, the Riel, exchanges at a rate of about 4,000 to the US Dollar.
However, the US Dollar has become the country's common currency and Riel notes are used for fractiona
l dollar amounts as U.S. coins are not in circulation. Bring clean bills in small denominations ($1 and $5) for making purchases. Credit cards and traveler's cheques are widely accepted in Phnom Penh and Siem Reap.
Many banks (open Monday to Friday) issue cash advances for Visa and MasterCard, usually for a small commission. Credit cards and traveler's checks are accepted in the cities although ATMs are widely available throughout Cambodia and it dispense cash in both US Dollar and Riel. ATM is the easiest and safest way of accessing money. When traveling to the countryside, VISA card can get you money at ACLEDA Bank, which is in every provincial capital.
Cambodian Traditions & Cultures
Customs and Tradition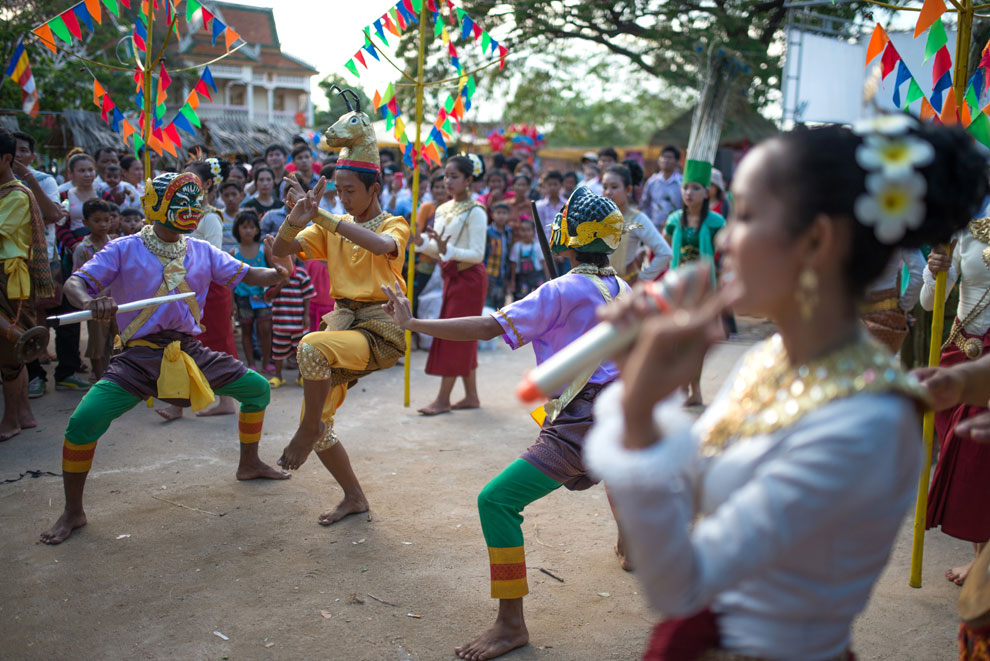 Cambodian culture and tradition have had a rich varied history dating back many centuries. Over the years, the people of Cambodia developed a set of unique tradition from the syncretism of indigenous Buddhism and Hinduism.
Cambodians have been raised to respect their culture and are very traditional in their way of life. Tourists will see the well mannered Cambodian expressing a friendly "Chumreap Suor" when they meet one.
Chumreap Suor
Cambodians traditionally greet with a Sampeah, which involves pressing the palms together before the chest with a slight bow and greeting with a polite 'Chumreap Suor'. Customarily, the higher the hands are held and the lower the bow, the more respect is conveyed. Except when meeting elderly people or government officials, between men, this custom has been partially replaced by the handshake. Women usually greet both men and women with the same traditional greeting. Although it may be considered acceptable for foreigners to shake hands with a Cambodian, it is more appropriate to respect the custom and respond with a 'Chumreap Suor'.
Culture
Various factors contribute to the Cambodian culture including Theravada Buddhism, Hinduism, French colonialism, Angkorian culture, and modern globalization. The Cambodian Ministry of Culture and Fine Arts is responsible for promoting and developing Cambodian culture. Cambodian culture not only includes the culture of thelowland ethnic majority, but also some 20 culturally distinct hill tribes colloquially known as the Khmer Loeu, a term coined by Norodom Sihanouk to encourage unity between the highlanders and lowlanders. Rural Cambodians wear a krama scarf which is a unique aspect of Cambodian clothing. The sampeah is a traditional Cambodian greeting or a way of showing respect to others. Khmer culture, as developed and spread by the Khmer empire, has distinctive styles of dance, architecture and sculpture, which have been exchanged with neighbouring Laos and Thailand through the history. Angkor Wat (Angkor means "city" and Wat "temple") is the best preserved example of Khmer architecture from the Angkorian era along with hundreds of other temples that have been discovered in and around the region.
Cambodia Dining & Drink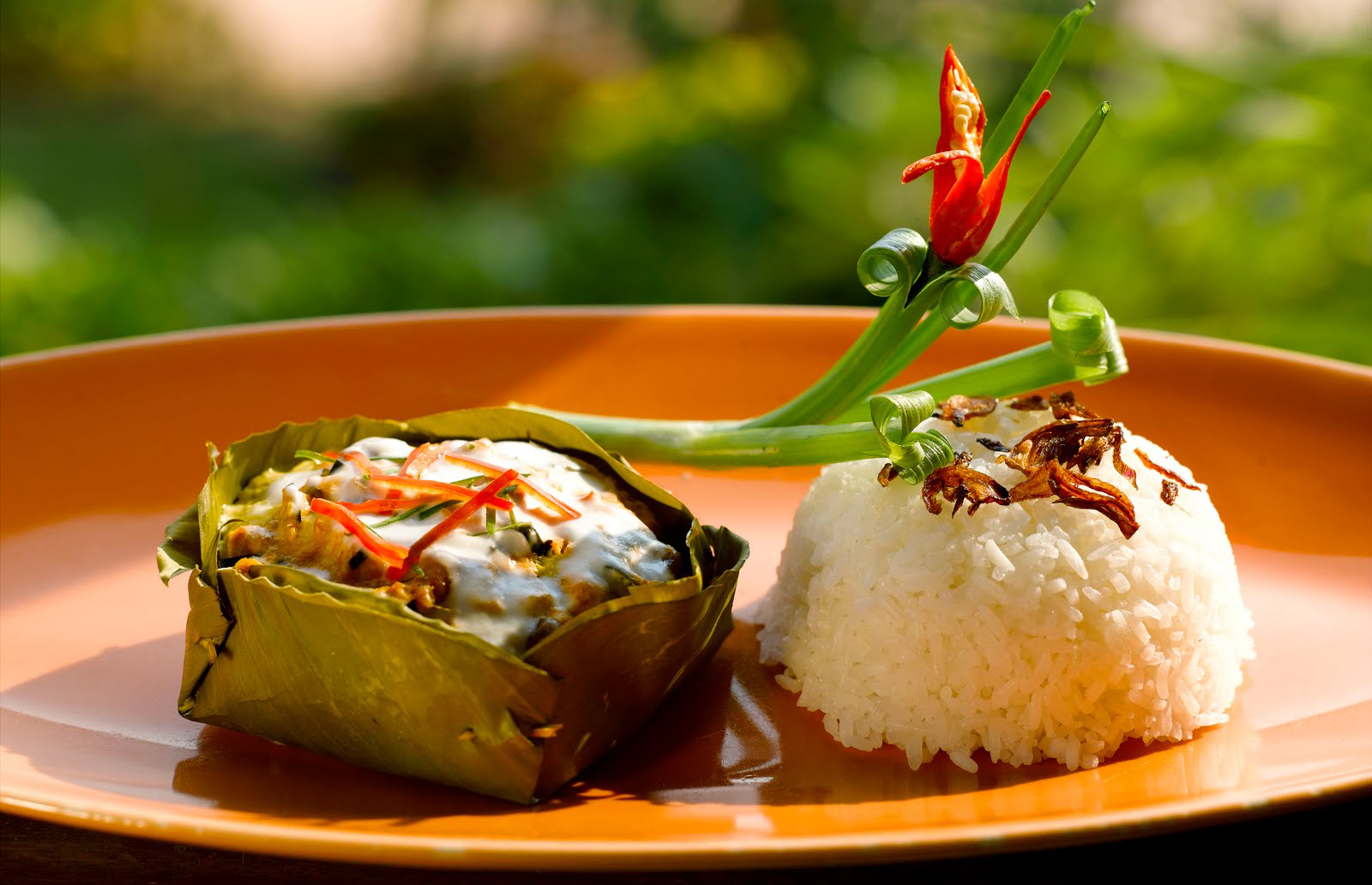 Dining:
Traditional Cambodian cuisine is one of detail, of small amounts of fresh ingredients with intriguing textures, complex aromas and exhilarating flavours, combined to create a distinctly light, delicate and healthy cuisine.
Fish, both fresh and its preserved forms - prahok (fermented) and trei chha-ae(smoked), plentiful from the Great Lake (Tonle Sap) and the Mekong River are predominant components of Cambodian cuisine, as are lemon grass, kaffir lime, galangal, turmeric, garlic and shallot. Cambodian cuisine differs from others in the region in its careful use of chillies, in only a few dishes are they cooked with other ingredients. Rather, chillies are served on the side on the side and left to each person's taste whether or not to add them to the food.
A typical Cambodian meal consists of a light soup, a salad, a fish dish, and of course rice. 'Must try' dishes include amok, a steamed fish dish accompanied by an array of herbs and spices bringing out the flavor of the fish without masking its taste. Another must try is samlor korko, a mixed vegetable and fish soup and char kdao, meat stir fried with basil, lemongrass and galangal.
Rice (or noodles) forms the centerpiece of most meals. Usually you'll get the rice mixed with a bit of chopped, stir-fried meat and some leafy vegetables. A bit of mint, chili, or chopped fresh mystery herbs is usually the topper. Be careful of the chopped, fresh stuff or the lightly cooked leafy stuff; there is no guarantee any of it is safe to eat. Remember to stick with well-cooked or seriously pickled items, especially outside of Phnom Penh and perhaps Siem Reap (Angkor Wat).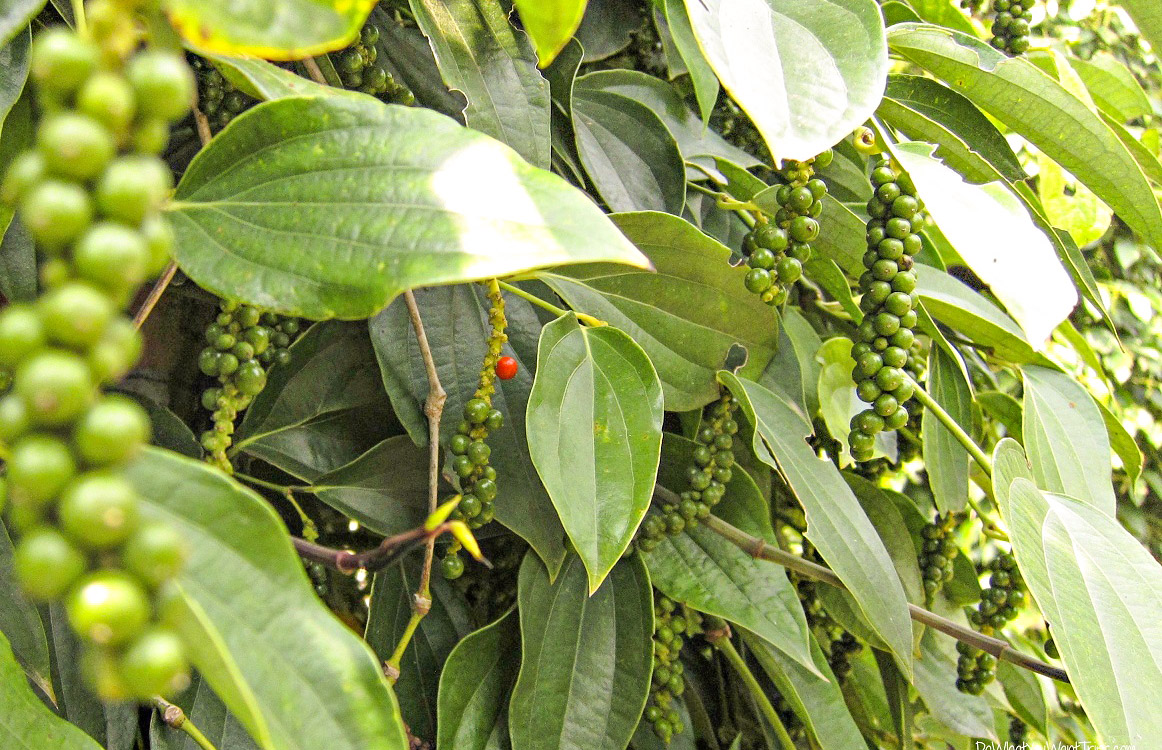 Tourist restaurants across the country serve up a generic range of international cuisine – pizzas, pasta, burgers, salads, sandwiches and simple grilled meat and fish dishes, all executed with varying levels of authenticity and success. Phnom Penh and Siem Reap also have a decent range of more upmarket restaurants specializing in French, Italian, Indian, Thai, Japanese and other leading international cuisines. At the other end of the scale, eating possibilities in smaller towns and rural areas can be quite restricted, and in the evenings you may be hard pushed to find anything more than a bowl of instant noodles.
Drinking:
Soft and juice drink, Iced coffee is ubiquitous in Cambodia. It is made Vietnamese style, freshly brewed and mixed with sweetened condensed milk. Walk past a local eatery any time of the day and you are bound to see at least a table of locals drinking them. One glass costs between 1500-2000riel. Iced tea made with lemon and sugar is also refreshing and ubiquitous.

Fresh coconut can be found everywhere, you could say it is ubiquitous, and is healthy and sanitary if drunk straight from the fruit.

During the hot Cambodian summer there is no more refreshing treat than a fresh fruit shake. Combining local fruits with a dollop of sweetened condensed milk, these blended beverages are a traveler's delight! Another sweet treat is sugar cane juice which is extracted by mashing the stalks of sugar cane. The resulting juice is then combined with a splash of lime, and is the perfect pick me up on a hot day!
Cambodia Travel Tips
Below are general tips and do's and don'ts when traveling in Cambodia.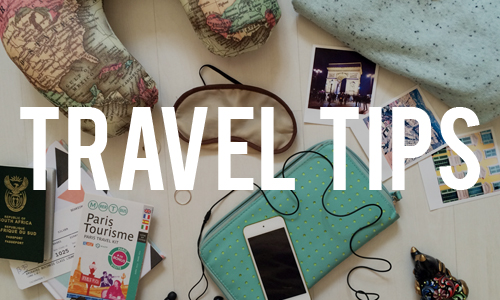 1/ No matter how friendly monks are in Cambodia, women should not touch monks or their robes. Do not take photos or disturb monks during prayer times.
2/ In Cambodia, the feet are considered the lowest form of the body and head the highest form. Do not point or gesture with your feet or put you feet on the furniture. Also do not touch someone on the head.
3/ Kissing and hugging in the public is impolite in Cambodian culture – please avoid this behavior in public places. Wearing revealing clothing is also not considered appropriate even though others may do this. Please do not wear revealing clothing especially in temples.
4/ Do not purchase historical artifacts in Cambodia. The looting of archeological sites results in the loss of significant social and cultural treasures, and robs in the Cambodian people of their history.
5/ Buying and consuming any type of narcotic and drug in Cambodia is illegal. Do not engage in this practice as it causes social and economic problems.
6/ Support the local economy in Cambodia by buying Cambodian food and handicrafts, or simply try a traditional Cambodian meal on the menu of the many restaurants.
· Revealing clothing is unacceptable off the beach. Shorts are generally fine—as long as they aren't too short.
· When visiting pagodas and temples, shorts and tank-tops are unacceptable. Your knees and shoulders must be covered. Footwear and socks must be removed in pagodas. Shoes are usually removed upon entering private homes too.
· When greeting people in Cambodia, it's customary to use the sampeah gesture: bring your palms together at chest level and bow slightly in the direction of your acquaintance
DOs in Cambodia
Ask for permission before taking photographs of any Cambodian people or monks.
It is customary to remove your shoes when entering a place of worship such as a pagoda or temple. Additionally, visitors should dress appropriately when inside a religious site (upper arms and legs should be covered, hats removed).
It is respectful to remove your shoes when entering someone's home.
Though not always expected, a respectful way of greeting another individual is to bow the head slightly with hands pressed together at the chest (known as "Sampeah").
If invited to dine in a Cambodian family's home, it is polite to bring a small gift for the host such as fruit, dessert, or flowers.
If invited to attend a Cambodian wedding, it is customary to bring cash as a wedding gift.
When using a toothpick at the table, use one hand to cover your mouth.
Keep business cards ready, and present them with both hands. Accept business cards with both hands.
When one mentions of the king's name, always raise both hands up and put the palms together in front of your faces as a sign of respect.
DON'Ts in Cambodia
Don't use your feet to point at someone.
Don't touch a Cambodian person on the head.
Don't begin eating if you are a guest at a dinner and the host has yet to take a bite.
Women should never touch male monks or hand something directly to them.
Keep public displays of affection to a respectful minimum.
Arrival Gateway, Visa & Customs
Most nationalities are eligible for a one-month visa on arrival at Phnom Penh Airport, Siem Reap Airport, Sihanoukville Airport and other land borders as listed below. The cost is $30 for a tourist visa. Bring payment in US dollars and one passport photo. Please be aware that sometimes there can be long queues at the airport when obtaining a visa on arrival, however in general the queues move fairly quickly.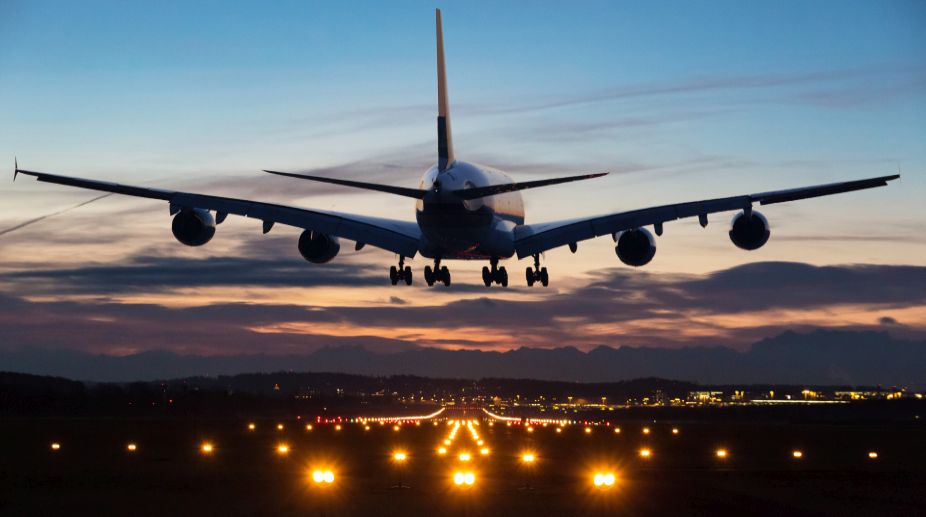 Cambodia electronic-visa can also be obtained by accessing the website of the Ministry of Foreign Affairs and International Cooperation - Kingdom of Cambodia at https://www.evisa.gov.kh/
Please make sure your passport is valid more than 6 months from the date of arrival in each country you are visiting. Also, make sure you have enough blank pages for visa sticker.
Visa on arrival can be obtained through below gateways:
Cambodia Airports:
1- Siem Reap International Airport
2- Phnom Penh International Airport
3- Sihanoukville International Airport
Cambodia-Thailand Border: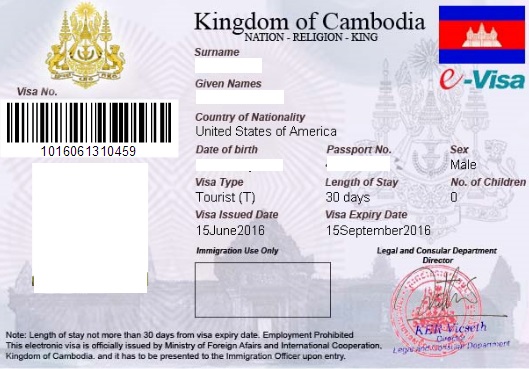 1- O'smach (Oddar Meanchay Province)
2- Poipet (Beantey MeanChay Province)
3-Prom (Pailin City)
4-Daung (Battambang Province)
5-Chorm (Oddormeanchey)
6-Cham Yeam (Koh Kong Province)

Cambodia-Vietnam Border:
1-Bavet (Svay Rieng Province)
2-Kaom Samnor(Kandal Province)
3-Phnom Den(Takeo Province)
4-Trapaing Sre(Kratie Province)
5-Tropaing Phlong (Kampong Cham Province)

Cambodia-Laos Border:
PDR: Dong Kralor( Steung Treng Province).
Note: Some land borders do not accept e-visa so you will need to check this info on website of the Ministry of Foreign Affairs and International Cooperation https://www.evisa.gov.kh/ before you proceed to apply for e-visa.
CUSTOMS

Passenger, Transportation's staff and those who cross the border can bring along by the exemption of duties and taxes with the quantity of goods and personal effect as follow:
All kinds of alcohol not exceeding 2 liters

Cigarette not exceeding 200 cigarettes, Cigar not exceeding 50 Cigars or Tobacco not exceeding 200 grams

Perfume and cosmetics amount not exceeding 350 milliliters

Stuff and other tools in an appropriate amounts that need to travel and non-prohibited goods

Bring foreign currency total value equivalent not exceeding to 10,000 USD

Persons less than 18 years old do not get preferential items 1 and 2 above
For more information visit:
Things to Do in Phnom Penh Capital
These activities are carefully selected and they suit Families, independent travelers but also group travelers. In case you have time to spare and want to get off the beaten track to discover a different part of Phnom Penh and surrounding, please consider one of our recommendations.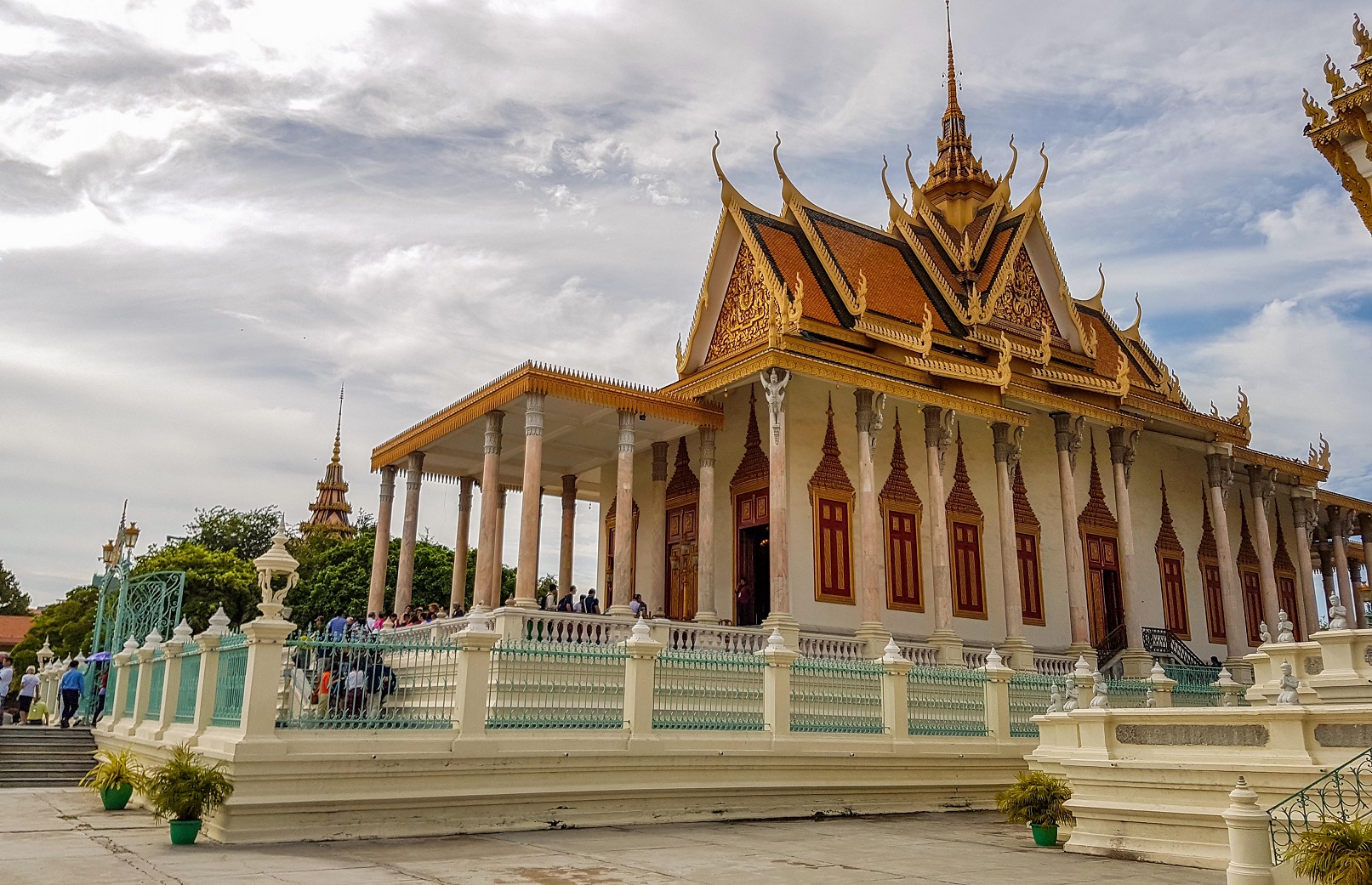 Royal Palace
Firstly the Royal Palace was erected in the reign of King Onhea Yat (1434), and secondly it was erected in the reign King Norodom (1866). The Royal Palace was formerly called "Preah Barom Reach Veang Chatomuk Mongkul" that meant it was conveniently located at the confluence of four rivers. Nowadays it is only called "Preah Barom Reach Veang". The Royal Palace is a royal residence now where his majesty, the king of Cambodia, and the royal families live. In a common word, it is like a small town of royal dynasties. View related tour
National Museum
National Museum Designed by the French George Groslier and "Ecole des Arts Cambodgients" it was built in 1917 in the reign of King Sisowath in traditional Khmer style. The National Museum houses the world's important collection of ancient Khmer archeological, religious, and artistic from the 4th to the 13th centuries. There are over 5000 pieces are on display including Angkorian era statues, lingas and other artifacts. View related tour
Wat Phnom
Wat Phnom is located on a hill 27 meters high in the center of Phnom Penh. The legend of founding Wat Phnom has it that in 1372 Lady Penh (Yeay Penh) fished a floating koki tree out of the river. Inside the tree were four Buddha statues. She built a hill (Phnom) and a small temple (Wat) which is now known as "Wat Phnom". The current temple was last rebuilt in 1926 and the large stupa contains the remains of King Ponhea Yat who moved the capital from Angkor to Phnom Penh in 1422. View related tour
Tuol Sleng Genocide Museum
This was a high school prior to the Khmer Rouge regime (1975-79). The museum of Genocidal Crimes it was used by the Khmer Rouge as a detention and torture center in the late 1970 which chronicle the years under the rule of the Khmer Rouge. The building now serves as a museum, a memorial and a testament to the madness of the Khmer Rouge regime. Much has been left in the state it was in when the Khmer Rouge abandoned it in 7th January 1979. The prison kept extensive records, leaving thousands of photos of their victims, many of which are on display. Paintings of torture at the prison by Vann Nath, a survivor of Toul Sleng, are also exhibited. View related tour
Killing Fields
The notorious Killing fields of Cheung Ek is located 15km of Phom Penh. In this place more than 17,000 civilians were killed and buried in mass graves; many of them transported here after detention and torture in Toul Sleng prison. The memorial at Cheung Ek just outside Phnom Penh was an orchard and a Chinese cemetery prior to 1975. Cheung Ek is now a group of mass graves, killing areas and a memorial stupa containing thousands of skulls and long bones. View related tour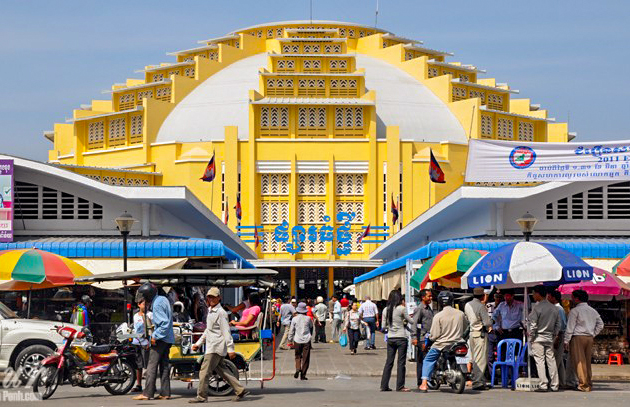 Central Market
The unique, art décor building is a Phnom Penh landmark. Prior to 1935 the area was a swamp/lake that received the runoff during the rainy season. Central market is one of the largest and business markets in Phnom Penh which is a big yellow dome. Built in 1937 by French architects many interesting products are available. Central market in Phnom Penh is a good place to purchase everything from fish and vegetable to second-hand clothes, silk scarves, silverware, gems, antiques and other commodities. View related tour
The Independence Monument
The independence Monument (Vimean Ekareach) was inaugurated on 9th November 1962 to celebrate Cambodia's independence from French rule (1863-1952). It was designed by the renowned Cambodian architect, Vann Monyvann.The Independence Monument is today used to commemorate the souls of combatants and heroes who laid down their lives for freedom of country. It is the site of colorful celebrations and services on holidays such as Independence Day and Constitution Day. View related tour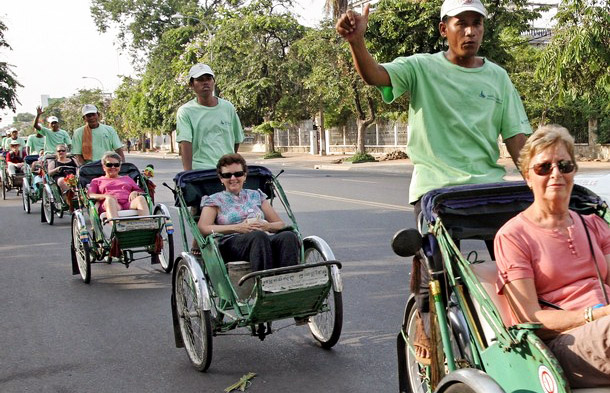 Cyclo tour in Phnom Penh
Cyclos are the old fashioned mode of transport in Phnom Penh and an integral part of the city's landscape. The cyclo was designed by a French architect and introduced to Cambodian street in the French colonial period. Cyclos remain one of the most enjoyable, relaxing, and environmentally friendly ways to explore Phnom Penh. However the power house behind you, the cyclo drivers, are amongst the poorest of the urban poor in Cambodia. Recognizing their plight the Cyclo Centre was established in 1999 as a 'drop-in centre' where cyclo drivers have access to daily English lessons, free medical care, and washing facilities. Enjoy one hour or a half day cyclo tour of Phnom Penh organized through the Cyclo Centre. You will enjoy sightseeing with slow phase of cyclo and sightseeing of the famed city sights such as; the riverside, Wat Phnom, the Royal Palace, the old French Quarter, the Independence Monument, and various interesting local markets – a truly unique experience and one that should not be missed whilst in Phnom Penh. View related tour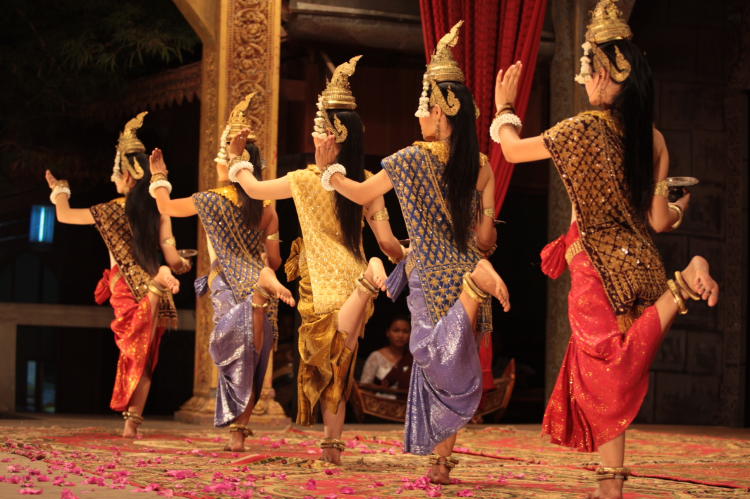 School of Arts
Cambodian culture is one of the oldest ones in Southeast Asia. Centuries of war, especially over the last three decades, have destroyed much in Cambodia, including arts and culture. The popularity of the traditional arts seems to be weakening and they are threatened by non-Cambodia cultural influences coming from the outside as well. Recognizing the problems, artists from the Royal University of Fine Arts led by Mr. Chhay Sopha and Mrs. Vong Metry collectively decided to establish the Apsara Arts Association (AAA) as non-governmental organization in 1998. Apsara Arts Association teaches students the fine art of Khmer royal ballet. Tourists can pay a visit to the school to rehearsal and training activities.
Watthan Artisans
Watthan Artisans Cambodia (WAC) is a member of Artisans' Association of Cambodia (AAC) committed to support producers with disabilities and other most vulnerable people from different provinces.
It helps create training and employment opportunity the disabled and also guarantee fair wages and benefits for disabled artisans. The profits are shared by the staff and producers, and are re-invested in staff development and training. Furthermore, WAC aim to increase awareness of the disabled and of the issues they face. With around 20 full time employees Watthan Artisans produces top-quality fashion and home accessories from locally-woven silk, cotton, up-cycled materials and re-claimed hardwoods
Architecture Tour
Architecturally speaking, Phnom Penh is a comparatively new city. Prior to the late 19th century the city was but a few pagodas and clusters of wooden structures along the riverfront. Almost every currently existing structure was built after the beginning of the French colonial period in 1863. 'Chinese shophouse' style buildings dominate the city, characterized by deep narrow apartments made up of a combined ground-floor business-front and upstairs residence. Standing in distinctive difference, old European influenced colonial period structures are interspersed through the central city. At the height of the colonial period Phnom Penh was reputed to be the most beautiful city in French Indochina - recalling Paris in its manicured parks and picturesque boulevards lined with ornate villas. Though sometimes difficult to see through the grime and disrepair of years of hardship and neglect, much of that beauty still exists.
Phnom Udong
About 40km from Phnom Penh, the former capital of Cambodia, Oudong, rises from the plains. The stupa's on top of the hill are the burial sites of former Khmer kings. The views are unbeatable and much can be learned here about the Cambodian history. We can travel to Udong by car or by boat along Tonle Sap River to enjoy the view and life along the river bank. View related tour
Sunset River Cruise
Short river cruises on Mekong River along the Phnom Penh's riverfront is a great way to see the city. A cruise typically takes about 1 hour and runs up the Tonle Sap River along the central riverfront area providing a picturesque view of the Royal Palace, National Museum, parks and Phnom Penh skyline. View related tour
Koh Dach Island
Koh Dach is a tranquility island locates around 20km north of Phnom Penh. Take a ferry cross the river to the island. Visit the island on a mountain bike and go around the community. Meet interesting local people, including a visit to the local school and families weaving Krama. The island is also famous for growing some particular agriculture products and producing fine handicrafts. Explore more of the authentic Cambodian way and join an experienced guide for a trip around this Mekong Island. View related tour
Tonle Bati
Located a convenient 30km from Phnom Penh, Tonle Bati is a hang out place for the local people during the weekend. Tonle Bati also has an Angkor Era Temple that most tourists will find it a nice surprise to see that the temples of Angkor are spread throughout the country rather than just around Siem Reap. Tonle Bati offers a haven of rest during weekdays. With well maintained gardens and a recreation site close by, people can easily spend half a day in the surroundings of this temple enjoying the simple things that make life charming and fulfilling. View related tour
Phnom Chisor and Phnom Da
The hill top temples of Phnom Da and Phnom Chisor are perfect way to introduce people to Cambodian history and style of art of many Angkorian temples. Phnom Da Temple is a cultural, historical site which its visitors are mainly having purpose on studying about the history of Cambodia, especially the pre-Angkorian style of art work because it is a pre-Angkorian Khmer capital during Funan or Nokor Phnom period (from 1st to 6th century). It would be a full day trip in which rural life can be explored, local people can be met and beautiful views can be encountered from the hill tops. Although the temples are simple in design, the story behind them is interesting and the journey towards them offers a great look into local people's lives. View related tour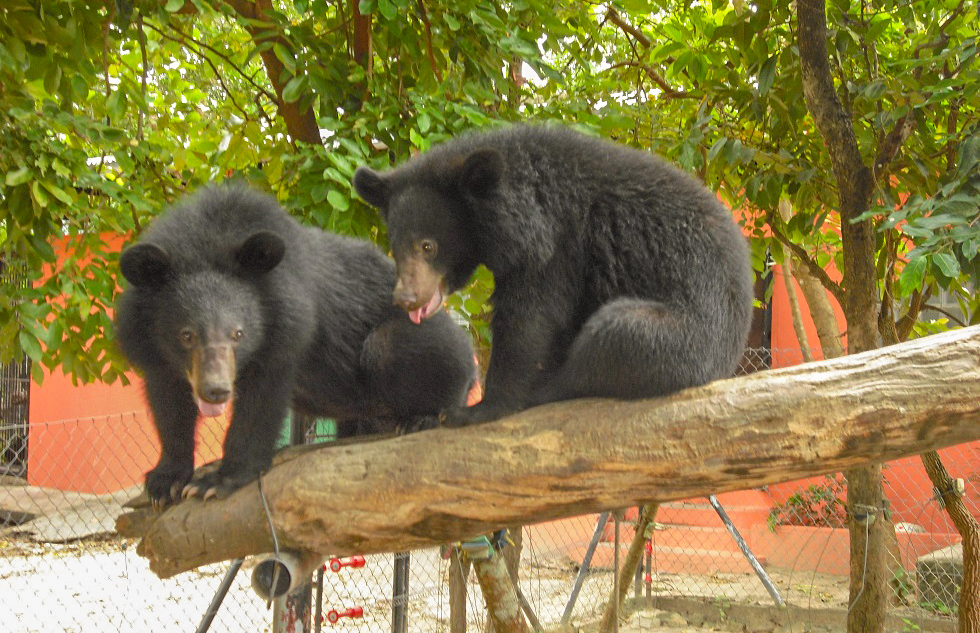 Tamao Zoo
Tamao Zoo is a 1200-hectares zoo and wildlife rescue centre located 30 kilometres southeast of Phnom Penh in Tro Pang Sap village, Tro Pang Sap commune, Ba Ti district, Takeo province. The zoo itself covers 80 hectares, the remainder has been reserved for its future extension and development. The sanctuary is continually undergoing improvements and strives to provide suitable habits for its larger animals. It was set up to preserve and rescue rare and endangered local wildlife. Some rare species housed here, including tigers, leopards, a lion and several species of exotic birds. At least two dozen of the species found here are endangered. View related tour
Things to Do in Siem Reap (besides the temples)
Besides visiting the main Angkor Wat complex and surrounding temples, Siem Reap has many more activities and attractions to offer to tourists who want to get off the beaten track to discover different parts of it. These activities are carefully selected and suit families, independent travelers but also group travelers. Please consider one of our recommendations.
Khmer Ceramic Fine Arts Centre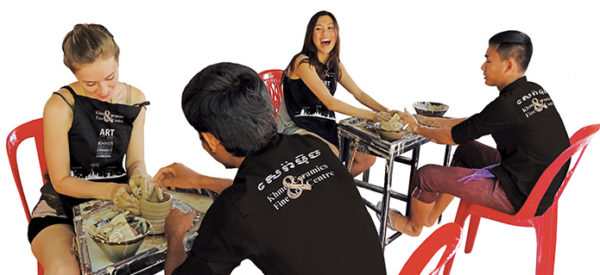 Center is a must-see for art lovers, craftsmen, and handmade ceramics lovers. Indeed, the Center is one of the unique places in Siem Reap which still offers authentic handmade Cambodian handicraft. BONUS: The Center also offers Cambodian pottery that will allow you to make your own travel souvenir. Website: www.khmerceramics.com
Kampong Khleang Village
Kampong Khleang floating village is located about 50km (1 hour drive) away from Siem Reap. The village is one of the largest settlements on Tonle Sap Lake and offers an exceptional experience into daily life of people living on the water. In the dry season the water levels retreat and the villages expands further into the Great Lake. Board a local boat and see floating and stilted houses. Observe the local customs and interact with local people. Exploring the small island, which is home to a bustling market, a pagoda, a school and a health centre before returning to Siem Reap.
Cycling Siem Reap's Countryside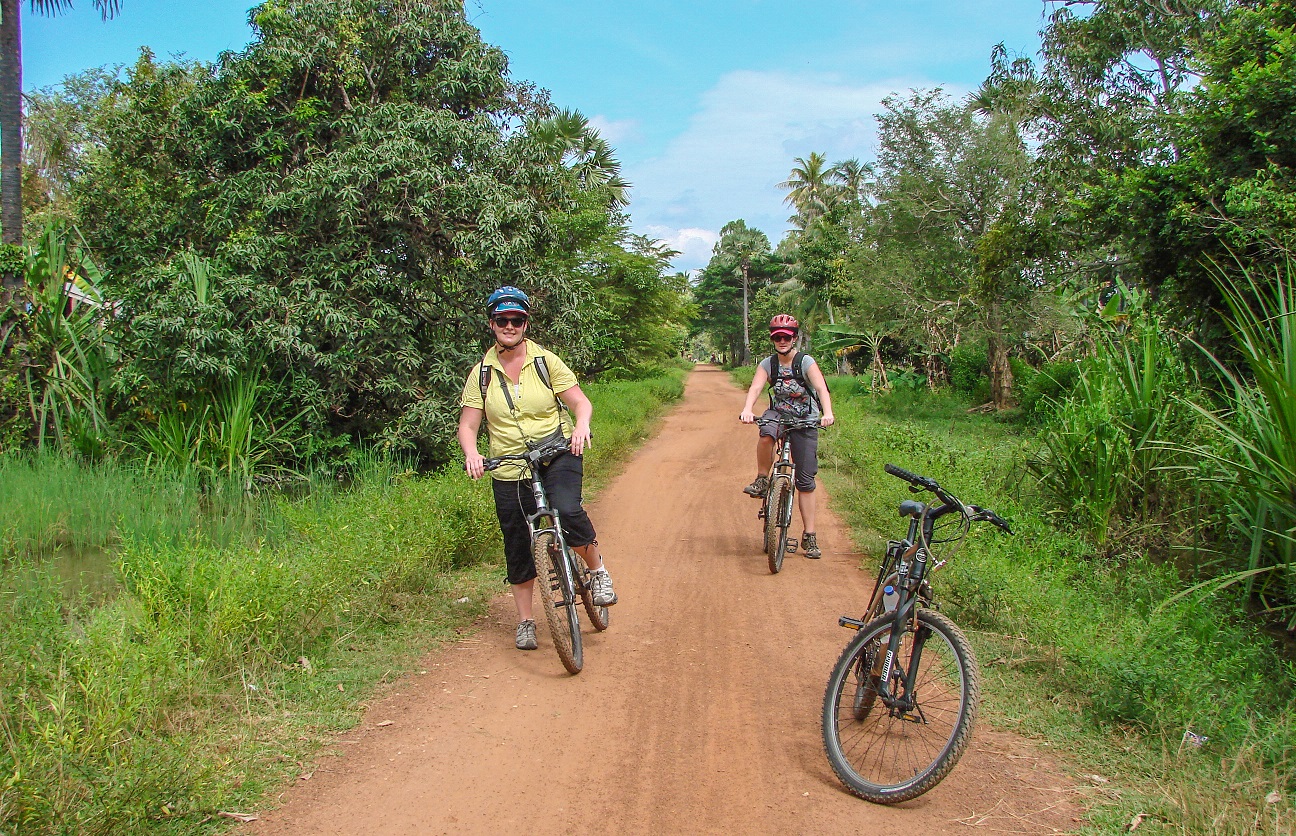 Siem Reap is surrounded by small rural roads that link the small villages around Siem Reap. Paths lead through paddy fields and villages where you will greet by friendly villagers. Discover temples where the typical tourist usually never goes and cycle the rural roads to really get in touch with the local communities. Several stops can be made on the way to see farmers at work, to visit a local school or a local home and of course to taste the delicacy of local snacks and fruits. The cycling tour can also combine with temple visits. View related tour
Charity Activities
We supports people in need and helps guests donating useful materials to school children, orphanages, children hospital or poor families. For example you can donate communal water well for families to access clean water, building or renovating house for the poor, visit orphanage and deliver school material for the kids. Watch concert of Dr. Beat Richner and make donation to the children hospital. You may want to go with the guide to the local market and buy school materials for the children in the village and donate it directly to the kids, buy materials for renovating a local house... The activity can be short or long depending on your available time.
Kampong Phluck flooded forest (good for late September to early March)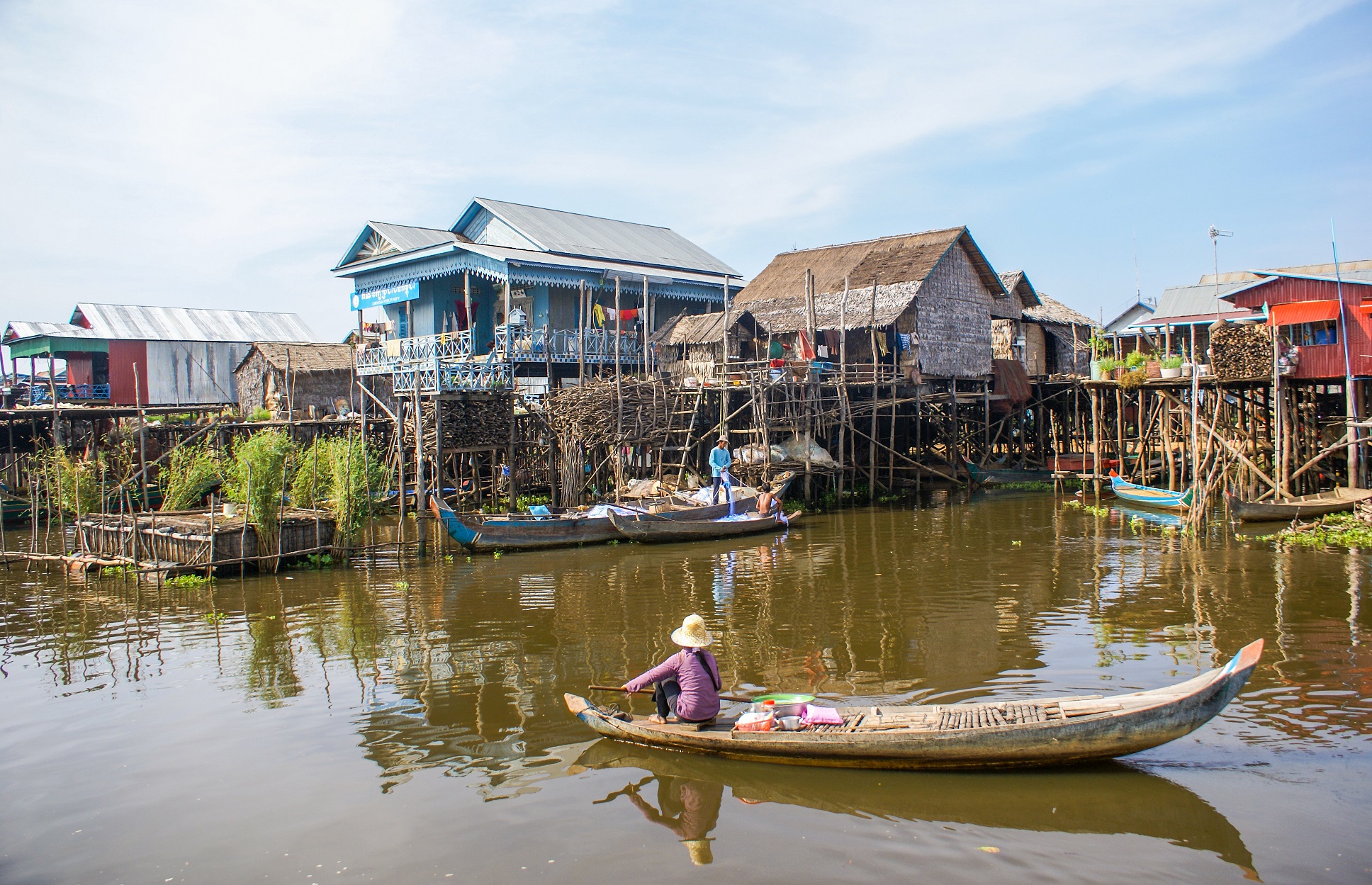 Like Kampong Khleang, Kampong Phluck is a wonderful floating village experience. Visiting this village is highly recommended between August and February when the water levels are high. The village has a bit more of an adventurous feeling to it. Unlike Kampong Khleang, Kampong Phluck is a village completely built on stilts. The houses rise high above the water, sometimes up to 10 meters. Visit a local home and chat with the owners about their daily activities. Kampong Phluck also has a marvelous flooded forest to explore. Stop your boat and relax in the flooded forest and enjoy picnic lunch. View related tour
Blessing ceremony by Buddhist monk
Wat Damnak is one of the most beautiful Buddhist pagodas in town with French colonial architecture reflecting its history and a large garden filled with statues. Bring candles and incense sticks to the pagoda and participate in a good luck blessing ceremony, performed by a monk that reside at the temple. Sit on the mat while the monks chant blessings and sprinkle holy water on you – a traditional way which is believed pass on the good luck of the gods. Afterwards, a sacred thread will be tied around your wrist. This will protect you from any evil spirits or accidents. Before you continue on your journey, you will receive a small keepsake from the monks to remind you of this special moment. View related tour
Quad bike countryside ride
Quad biking is a fun way to discover Siem Reap surroundings. Whether you want a relaxing sunset tour with the family or an extreme adventure 2 day ride to the remote temple of Koh Ker, there are packages that tailor-made for you. View related tour
Kayaking on Tonle Sap Lake's flooded forest
Board a local wooden boat which will take us to the amazing floating village and mangroves for your unique kayaking experience. On arrival, we will be greeted by monks in their brightly colored robes for receiving a good luck blessing before you gently kayak through the floating village where you will be welcomed by warming smiles from the humble Cambodian people who live on this fantastic lake. We continue to enjoy kayaking until we reach the end of the village and there you will be welcomed by our local host, where we will stop for a local lunch in a beautiful setting. After beautiful lunch, we continue to gently kayak to the exotic mangroves seeing rare birds in this tranquil setting giving you a once in a lifetime experience leaving you with ever lasting memories.
Khmer food lover cooking class
If you like to prepare your own Khmer food, enjoy a cooking class at Sojourn Villa. The class is offered in the community with a wonderful open air kitchen. A village walk allows you to observe how the local people cook their food before you partake in your own gastronomic adventure. View related tour
Helicopter flight
See amazing sites of the World Heritage Angkor Wat and nearby temples from the air. Scenic flight will take you to Angkor Temple Area and floating village. There are many options of flight starting from scenic 8-minute flight to full day trip to visit remote temples such as Koh Ker, Beng Melea and Preah Vihear.
Golf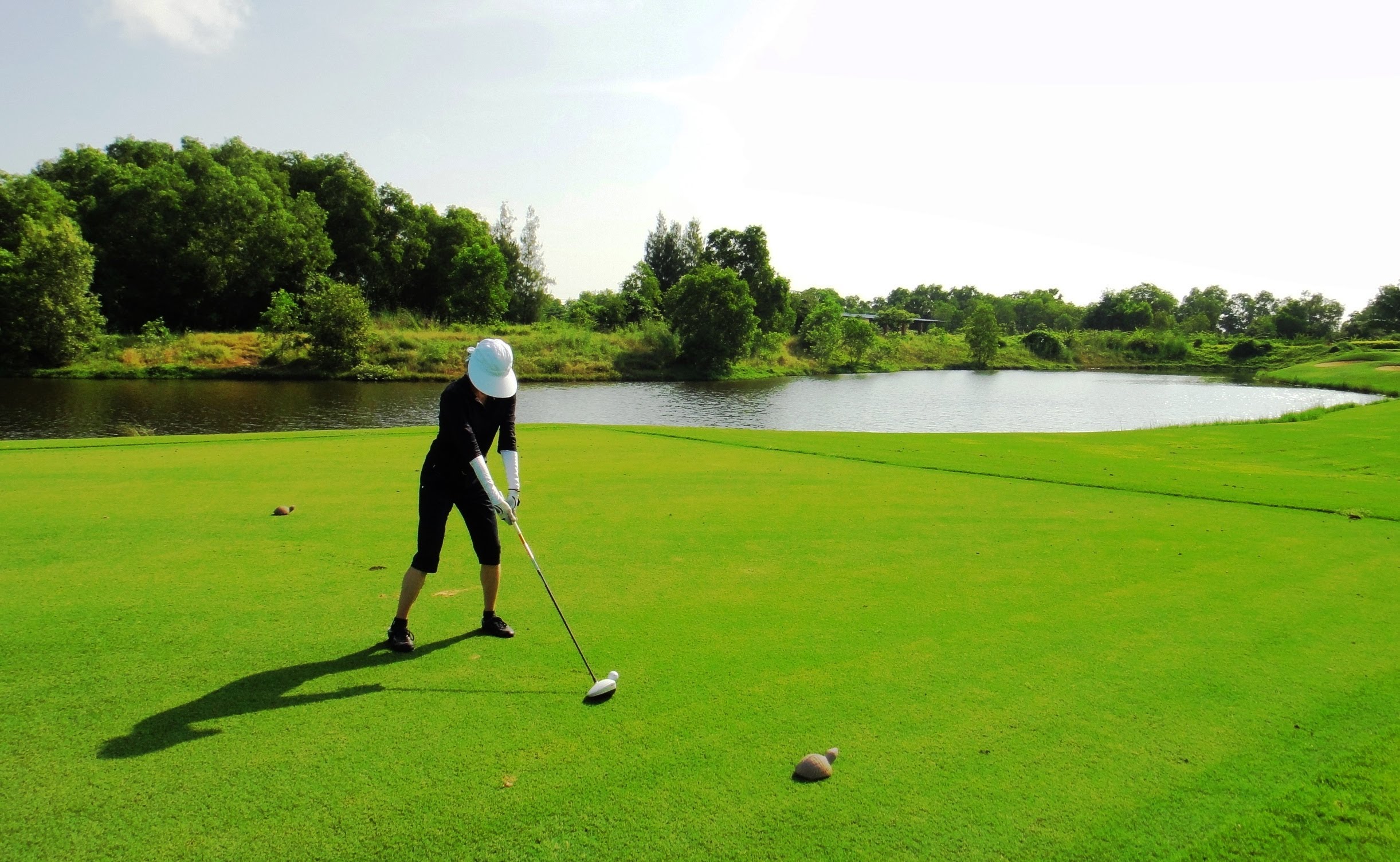 The past decade has seen a flourishing tourist industry with some three million visitors per year enjoying a full range of cultural and luxury travel experiences. And golf is proving to be an increasingly important part of that package. Siem Reap is the golfing centre of Cambodia. There are now three international standard courses each with their own variety and challenges for everyone from amateurs to professionals. In addition, with the temples of Angkor Wat nearby, Siem Reap is proving to be one of the world's best undiscovered golf destinations. View related tour
Angkor National Museum
The newly opened Angkor National Museum in Siem Reap promises eight chronologically ordered galleries of Angkorian-era artifacts and multi-media presentations of Angkorian history and culture. The Museum had just opened its doors and was not quite completed at time of printing, but should be very soon.
Bird watching
Prek Toal is Southeast Asia's single most important breeding ground for globally threatened large water birds. The sanctuary harbors seven species of water birds of global significance such as Spot billed Pelican, Milky Stork, Painted Stork, Lesser Adjutant, Greater Adjutant, Black headed Ibis, Oriental Darter. The Prek Toal area consists of seasonally inundated freshwater swamp forest with a high botanical diversity. Short tree shrub makes up most of the landscape, forming a dense under story with scattered large trees, which form the vital nesting ground for large water birds. Prek Toal is unmatched throughout South East Asia for the number and populations of endangered water birds it supports through the dry season. Large flocks of cormorants, storks and pelicans are almost guaranteed from January to May, along with herons, egrets and terns. Prek Toal can be visited as a day trip from Siem Reap. The village is about an hours boat ride from where visitors embark from Siem Reap.
Balloon ride (tethered balloon and hot-air balloon)
Take a tethered helium balloon ride 200 meters straight up for an amazing aerial view of Angkor Wat, Phnom Bakheng, West Baray and other ruins amongst the surrounding jungle and rice paddies. Bring a camera and binoculars if you have them. The big, yellow balloon is based on the road from the airport to Angkor Wat, about a kilometer from the front gates of Angkor Wat. Hot-air balloon is new addition to Siem Reap but hot-air balloon is not allowed to fly near the temples so it only flies over the city and offer far away view of Tonle Sap Lake, Kulen Mountain, Phnom Bok Mountain, countryside view and view over Siem Reap city.
Cambodian Cultural Village
A unique, sprawling cultural attraction in Siem Reap, intended to introduce the visitor to Cambodian culture and history. Wax museum with scenes and figures from history. Fascinating 1/20th scale models of sites such as Phsar Thmey and the Royal Palace in Phnom Penh and the hills and temples of Oudong. Full scale models of a variety of Cambodian architectural types, including different styles of huts and homes, hill tribe houses, pagoda and mosque.
Cambodian Landmine Museum
The Cambodia Landmine Museum has evolved from a small shack museum by former soldier and deminer Akira to a formal museum and charitable organization. Through the exhibits, the museum tells the story of landmines in Cambodia, how they have impacted the country's past, present and will continue to impact its future. The story is told through the story of Aki Ra, our founder, who was suppressed into the Khmer Rouge Army as a child soldier, and spent his youth fighting in the wars that ravaged his country for nearly 35 years. The Cambodian Landmine Museum is more than a museum. It is also a home that provides education and support for dozens of at-risk youth and landmine affected children rescued by Cambodian Landmine Museum Relief Facility project. Many children who are part of this family suffered overwhelming hardships. The Cambodian Landmine Museum Relief Facility was created so that it might serve as a place of healing for bodies, hearts and minds. We believe that love, support and education will help secure a better opportunity for the children that live here. View related tour
Khmer Arts and Crafts

Cambodia is also known for its arts and crafts. The concept of silk weaving, painting, basket making, wood carving, silver crafting, buffalo skin carving, knife/sword making, stone sculpting, pottery and ceramic are some of the ancient traditions of Khmer ancestors that still last till present time. It is worth paying a visit to these workshops to witness and understand more about Khmer arts and crafts. If you are interested, perhaps join in some small activities like ceramic or buffalo skin carving classes. View related tour
Siem Reap War Museum
Displaying a wide variety of military hardware and equipment in decrepit condition, taken from the battlefield. Heavy armor including T-54 tanks, anti-aircraft guns, artillery pieces, rocket launchers, APCs, small arms and piles of disarmed mines, bombs and small arms. Most of the larger pieces are labeled.
Banteay Srei Butterfly Center (BBC)

Banteay Srey Butterfly Centre (BBC) is an interactive butterfly exhibit located 25 km north of Siem Reap, on the road to the Landmine Museum and Bantey Srey temple. The exhibit consists of a netted tropical garden with thousands of free-flying butterflies, all of which are native species to Cambodia. The enclosure is South East Asia's largest butterfly exhibit and provides residents and tourists with an interactive and visual environment to learn about butterflies and support local communities. A guided tour of the center allows you to see complete process of butterfly farming.
View related tour
Horse riding and horse card riding
The Happy Ranch Horse Farm offers countryside trail rides from 1 to 3 hours. From sunrise to sunset, the horses will take you on a journey to places that are otherwise unreachable, through local countryside villages, scenic rice fields and tourist-free temple ruins, all waiting to be explored. An authentic taste of the real Khmer lifestyle viewed from horseback, and a welcome break from other tourists.
Village Homestay
Cambodia is a land of culture, tradition and the Khmer ethnic civilization. A Cambodia countryside homestay is one of the best ways to fully immerse yourself in Cambodia whilst experiencing absolute, unadulterated authenticity. This is about meeting and getting to know local Cambodians, living their lifestyle and experiencing Cambodia travel at grassroots level during an adventure that is sure to involve a series of unexpected encounters, pleasant surprises and long-lasting memories. Note that is real village homestay that means the facilities are basic.
Camping and jungle trekking
The perfect experience for those who wants to experience the natural and historical Cambodia that few visitors ever have a chance of seeing. The Cambodian countryside, its hidden, mysterious temples and traditional village life are all here, waiting for you to discover. Camping out under the Cambodian sky will be an experience that you will not soon forget and will want to return year after year as hundreds already have. View related tour
Kong Kear Angkor Gondola
Angkor Gondola is an unique Khmer traditional boats service in the moat along Angkor Thom Great Wall. Come and discover a natural wonders, hidden treasure of the historical site and cultures. Travel the water where history, nature and culture come alive while you can enjoy sunset view with cocktail on the boat. View related tour
Elephant ride
Founded in 1997 with the vision of bringing elephants back to Angkor the Compangnie des Eléphants d'Angkor has grown over the years improving the facilities for its Cambodian elephants and its service to the visitors at Angkor. Elephants ride is available from the South Gate of Angkor Thom where they will lead you down the road to the majestic Bayon Temple with the backdrop of inquisitive monkeys and jungle. Once at Bayon Temple the elephant can lead you around the perimeter of Angkor Thom's main temple of Bayon. You can also take an elephant up to Bakheng Hill for sunset viewing.
Ox-cart and buffalo-cart ride
Siem Reap also offers you a unique opportunity to explore a real Cambodian countryside. You will have a chance to experience a memorial ox-cart or buffalo-cart ride (Ro Teh Ko). The slow moving cart is an ancient Cambodian transportation means in the past time. You will ride through villages, interacting with the locals, passing by Buddhist pagoda, schools, crossing rice paddies, seeing seasonal vegetable plantation and more.
Old Market and Night Markets
Of the various traditional Cambodian markets in Siem Reap, the Old Market offers the deepest selection of souvenirs and curios. There are souvenir vendors throughout much the market, especially on the river side. Nearby is The Angkor Night Market which is a good place to shop for some unique items of Cambodia. Unlike the Old Market and Central Market, some of the items sold here come from the remote villages, made by small communities.
Apsara Dance Show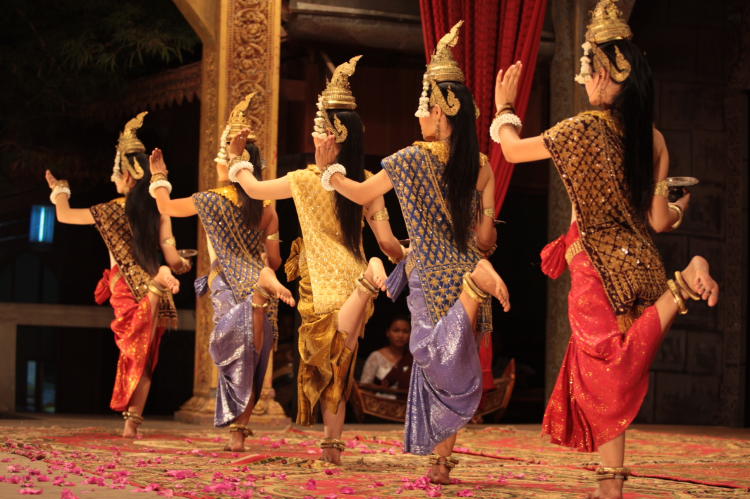 Experience dance and music styles of a Khmer dance performance. Discover history and legends of the Kingdom through various types of popular and classical dances performed by the Apsara Dancers. Step back in time to the courts of the Angkorian Kings and wonder at the magnificence of the traditionally styled performers' costumes. This is called "Apsara Dance". View related tour
Angkor Centre for Conservation of Biodiversity (ACCB)
ACCB is the first nature conservation center in Cambodia, located near Kbal Spean, about one hour north of Siem Reap. The aims of the center are the rescue, rehabilitation, breeding and reintroduction of threatened wildlife, in combination with an environmental education program, promoting wildlife conservation and training local villagers in the sustainable use of natural resources. Free guided center tour Monday to Friday at 13:00 (for groups, other times can be arranged). Close on all national holidays.
Voluntourism
Volunteering is a popular way to be able to 'give something back' to the world - whether to a local community or organization, the world 'as a whole' or to the natural environment. People give their time, skills and sometimes goods or money towards a positive outcome. Volunteer options can be give blood, dine for a cause, do volunteer work at orphanage, teaching English at pagoda, shop responsibly, donate to an NGO, donate pump-well, solar-power light to poor family, support a disadvantaged child...there are many ways to that you can help disadvantaged Cambodians and contribute to the development of the country.
Cambodian circus Phare Ponleu Selpak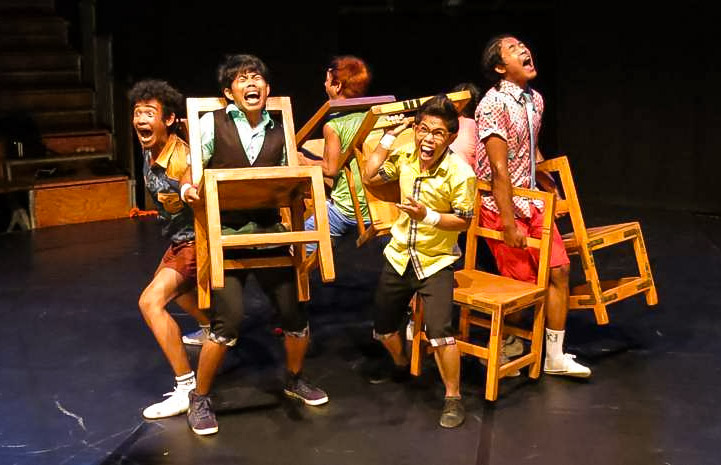 "Phare, the Cambodian Circus" is an offshoot project of Phare Ponleu Selpak (Association) which translates as "Brightness of the Arts" in English. PPS Association is a Cambodian non-profit, non-governmental association founded in 1994 by eight young Cambodians ex-refugees artists in the area of Anchanh Village, Ochar Commune, Battambang Province. It serves as a tool to build the careers of Cambodian Artists, to revive Cambodian art scenes, to make worldwide arts connections with Cambodia and to contribute to the artistic, educational and social programs of PPS Association. The circus is an amazing blend of traditional and modern theater, music, dance, acrobatic, juggling and contortion beautifully choreographed and performed in a story about Cambodian lives and society. During one hour, through high technical skills, the performers transmit the emotion and excitement and totally blow the audience away thanks to their distinctive personalities and humor. The show is on daily. View related tour
Things to do in Sihanoukville
Located on the southwest peninsula facing the Gulf of Thailand, Sihanoukville was originally founded as a port town half a century ago. Today this provincial city is Cambodia's premier beach destination with miles of powdered white sand beaches, picturesque islands and warm tropical waters which can be visited year round. The nearby islands of Koh Rong and Koh Rong Sanlem teeming with coral and colorful range of tropical fish offer excellent opportunities for snorkeling and diving. If you are a seafood lover, you will especially enjoy the local specialties of fresh caught crab and shrimp. Besides the beach sihanoukville also has a range of fun activities to keep travelers occupied for at least a few days. These activities are carefully selected and they suit families, independent travelers but also group travelers. In case you have time to spare and want to discover a different part of Sihanoukville and surrounding, please consider one of our recommendations.
Ream National Park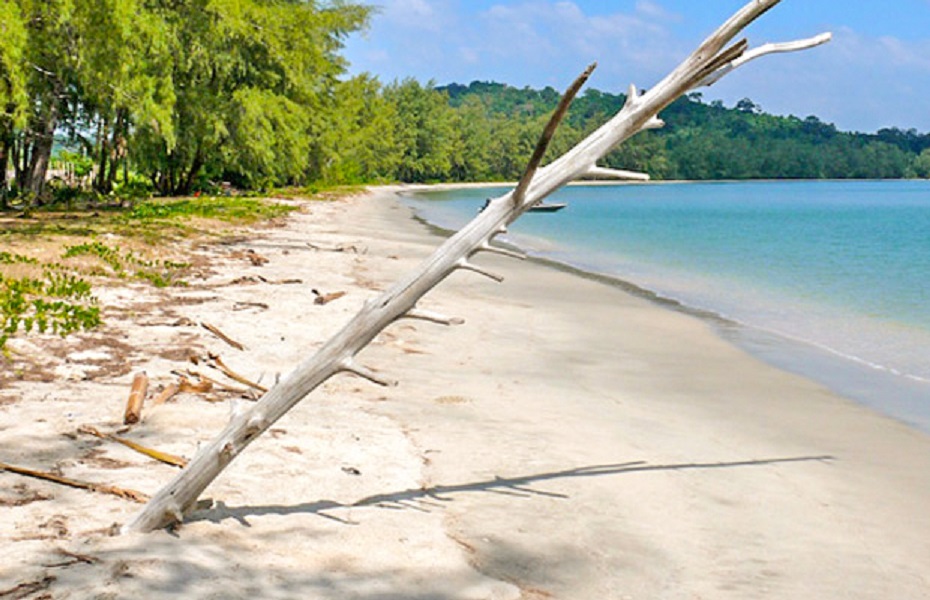 Locate around 40 minutes by car from Sihanoukville, the coastal national park area covers the main land as well as a few islands and is home to a number of rarely seen endangered animals such as, macaques, sun bears, dolphins, mouse deer, pangolins and over a hundred species of birds. We can arrange a guided trip and boat to nearby islands for you to explore the tranquility and beauty of untouched beaches. Enjoy your time doing snorkeling, swimming while BBQ sea food is arranged. Find out related tours here. View our related tour
Bamboo Island and Koh Preus Island
It is one hour and a half boat trip from Sihanoukville, Bamboo Island is a tranquil island with picturesque beaches and yet there are not as many visitors as its neighboring Koh Rong in the gulf. This fact presents opportunity for travelers looking for private trip and fresh-air relaxation away from the crowd. One our private trip, you will enjoy snorkeling on the way at Koh Preus Island. Once arrive at Bamboo Island you will have between two and three hours to enjoy a barbecue lunch and relax among swaying palms, white sands and blue waters or playing beach volleyball. If you want to explore the island further, you can embark on an easy jungle trek around 1 hour more. View our related tour
Koh Rong Island & Koh Rong Samloem Island on share boat trip
Koh Rong is the second largest island of Cambodia and it locates about 25 kilometers off the Sihanouk Ville's coast in the Gulf of Thailand, the island has an area of approximately 78 km2 and 43 km of undeveloped beaches and many of them are among the best beaches in Cambodia. On our share trip, tour start with pick-up from hotel before 09:00am. You will be transferred to Ochheutil Beach Dock and embark on a spacious party boat equipped with a restaurant, a bar and music. A simple breakfast will be served as the boat depart. First island call is Koh Thas Island where you will have time for swimming & snorkeling. Then continue trip to Koh Rong and we dock at Treehouse Pier and here you have time enjoy swimming and snorkeling in the tranquil water or you can head out to 4K beach or pay a visit to the local Koh Touch Village or you just relax. Buffet lunch will be served on board while we had to our last island call at Koh Rong Samloem. Return to Ochheutil Beach Dock at around 5pm. View our related tour
Kbal Chhay Waterfall
Locate some 18km north of Sihanoukville town and is clean water resource for Sihanoukville. It is also a popular hangout place for the local and is surrounded extensive forest as well as by loads of food stalls, picnic spots, hammocks and local food. It is especially busy during the weekend so you might want to plan your visit well if you can do that. During the wet season an impressive amount of water flows from the mountain ranges surrounding Sihanoukville, where in the dry season the pools at the bottom are a great spot to swim. If you look for swimming, then dry season is best time for you otherwise you can just go for relaxation like the locals.
Psar Leu Market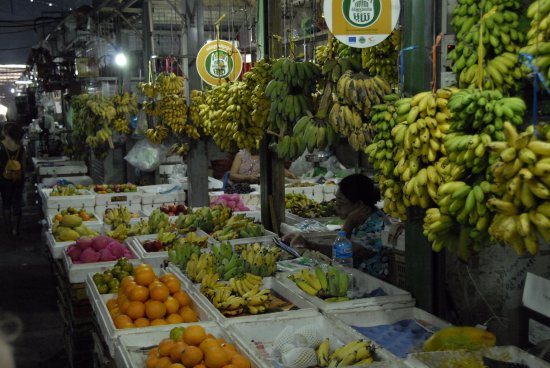 At the centre of downtown is Psar Leu Market. The market is a great place to sample the area's abundant tropical fruits, seafood as well as shopping for souvenir. It is a great place a few gift to keep your memory of Siahnoukville and also opportunity to observe local culture.